Multiple data sources consolidated into one database
We combine machine learning and data engineering with robust verification processes and a strong network of ecosystems. These days, companies grow from seed stage to unicorn within a few years. Therefore historical data is no longer enough. The next big thing can emerge from anywhere in the world, not just Silicon Valley or other established tech hubs. Real-time data and predictive technology are required, using powerful algorithms.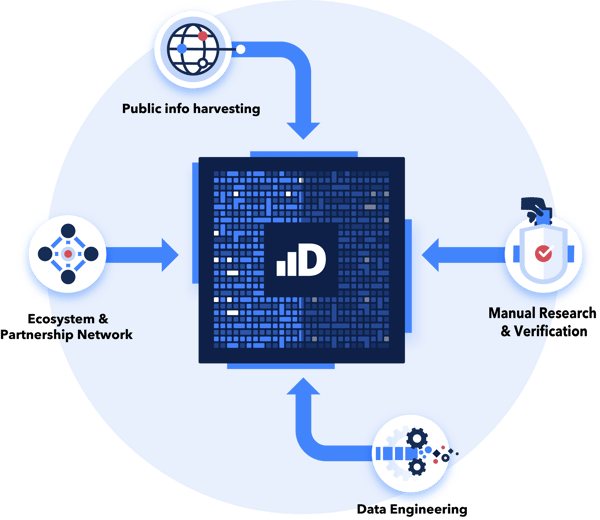 Harvesting public info via machine learning and APIs
We apply AI and algorithms to gather large quantities of data from public sources such as news, company filings, domain & trade registries, job boards, web and app store analytics, and investor portfolios among others
Partnerships with governments on the Ecosystem Platform
Our local government partnerships form an interconnected network, sharing data & knowledge. These win-win partnerships give Dealroom access to unique data and are possible thanks to an API-first approach
Robust verification & validation processes
Whether data is aggregated via AI or submitted by partners and users, we've always maintained extensive verification of data. This involves countless hours of manual work by our Intelligence Unit and of team analysts, assisted by proprietary verification software.
Data Science team & Intelligence Unit
Our data science team crunches the data, using state-of-the-art tech including machine learning to uncover actionable predictions. Our Intelligence Unit is constantly on the lookout for new insights and trends.
Create your free account to access the largest database of startups & scale-ups.