Explore Dealroom's annual rankings of Europe's most prominent venture capital investors.
Every year Dealroom releases a quantitative ranking of Europe's most prominent venture capital investors. The VC prominence rank is intended to be a practical ranking, to be used in everyday situations, such as:
A founder looking for capital
An investor looking for co-investors
A corporate M&A team looking for VC portfolios to explore
An LP exploring and comparing different funds
A person looking to land a job in VC, or expand their network


Navigate to the Prominence Rank tab on the side menu and here you'll find the 2021, 2020, and 2019 rankings. To view the ranking, click on the Prominence rank dropdown and select the ranking of your choice or choose one of the suggested searches at the top of the page.
The prominence rank can be filtered by geography, sector experience, number of rounds, deal value and more. You can further refine the data by applying filters through the Advanced filters button on the right, next to the filtering bar.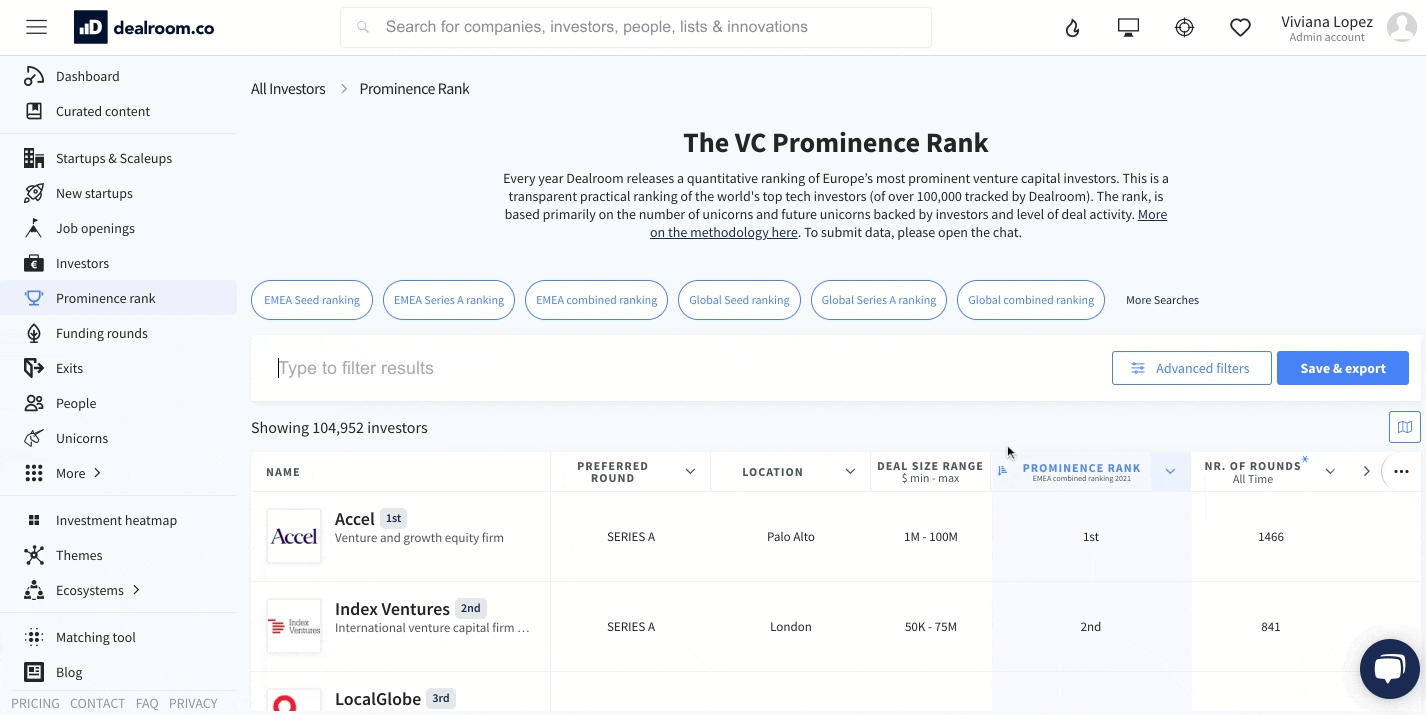 Note: If you are a Dealroom premium user, you can also export the data for further analysis.


The 4th annual Venture Capital Investor Prominence Rank
For the 2021 edition, we have launched 6 distinct rankings. This year we're ranking:
VCs, based on EMEA-based deals, and global deals.
Ranked by number of unicorns backed, future unicorns ($250m-$1B), and deal activity in last 12 months.
Separate Seed & Series A rankings, and a multi-stage weighted list
To learn more about this year's methodology click here.
Need help?
Feel free to reach out to us via our support chat (bottom right) or send us a message here.