The Notes features allows you to communicate with colleagues, other users or simply keep track of important information to reference at a later date.
To add a note, use the search bar at the top of the page to find the company you are looking for. Once in the company profile, navigate to the Notes tab and then select Add note.

You can add text notes, photos, PDFs and YouTube URLs.

You can access your note by returning to the company profile, or accessing saved notes by clicking on the heart icon on the top right of the page. To see all of your notes, click on the All notes tab or click here. Once you click on a note, you will be redirected to the company profile where your note has been stored.
Tip: Want to have your note featured and visible to all? A featured note can fall into one of three categories: Interview, Fundraising, Hiring
Reach-out to us to have your note featured! We would love to hear from you.
Notes can be used to:
- Collaborate with colleagues.
- Leave notes on interesting companies to view at a later time.
- Add applicable links, PDFs and YouTube URLs.
- Notes can also be made public, allowing all Dealroom users to view.
Sharing Notes: Once you have saved your note, you can share this out to other members of your team by selecting the pencil icon. You will now have the option to share the note – simply search for your colleagues, add the user and then save the note.
Public Notes: If you are an employee of the company, you can choose to make notes visible to all Dealroom users by selecting the box for Public. This is a great way to share out pitch packs, important videos or other information that will be useful to those viewing the company profile.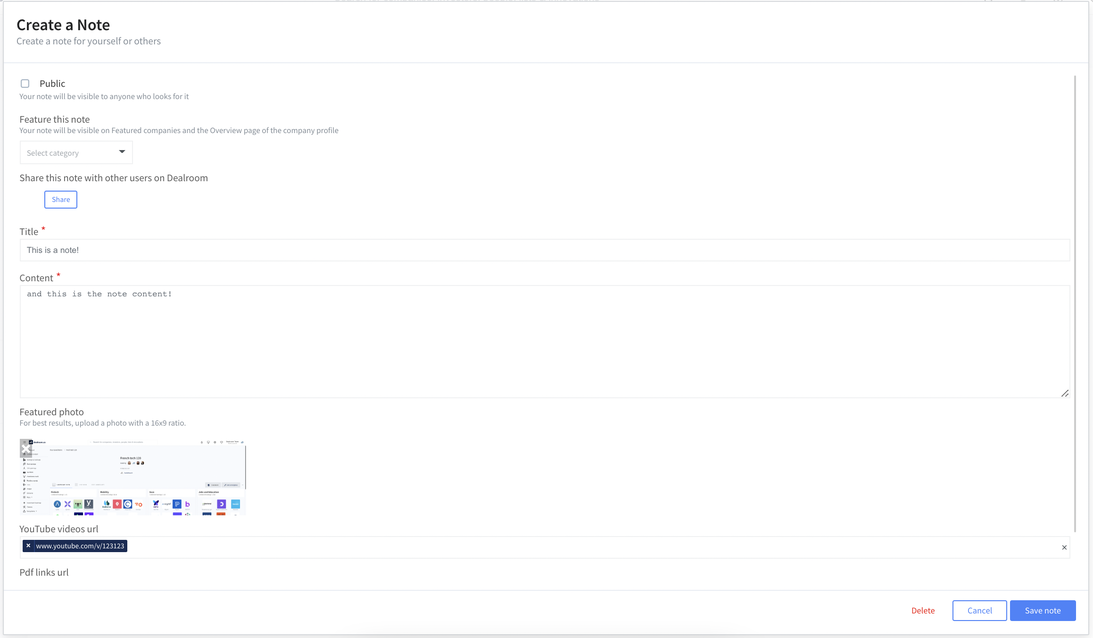 Need help?
Feel free to reach out to us via our support chat (bottom right) or send us a message here