Export Dealroom data for further analysis and enrichment
The export feature is a premium feature that is available to all trial and premium users.
If you are a trial user, you will be able to make 2 exports of 25 rows each. This means that you can export a total of 50 companies, including all their data points.
If you are a premium user, the number of rows available to export will depend on the license you have with us. You can always contact us to inquire about your license and/or the number of rows available in your account.
Whether you are a premium or trial user, an export is made by clicking on the Save & export button on the right of the query bar. Here you can choose to save, save & export or just export a search. Choosing to save & export the search will allow you to return to the set of filters (search) any time: give the search a name and click on the Save & export button. The search will be saved and you can continue to choose the columns to export.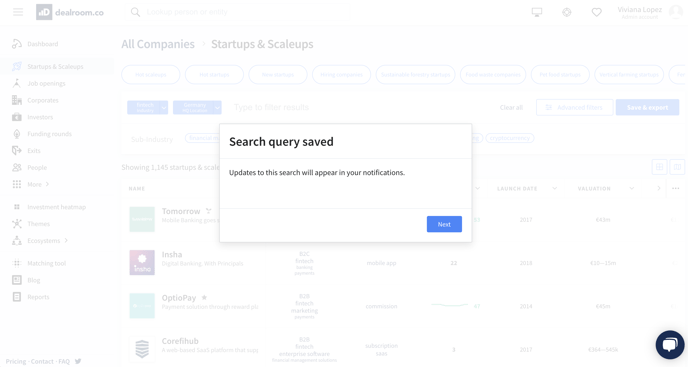 Caution: Don't click outside the displayed window as this will cause the window to close.

To only export the search you've made, click on the Save & export button then click on Just export. A window will be displayed with all the exportable columns. You can select all columns or simply choose the most important ones for your analysis. To make the export, scroll down in the window, choose the file type (CSV or Excel) and click on the Export button.
Once the export is done you will be able to download the file right into your device.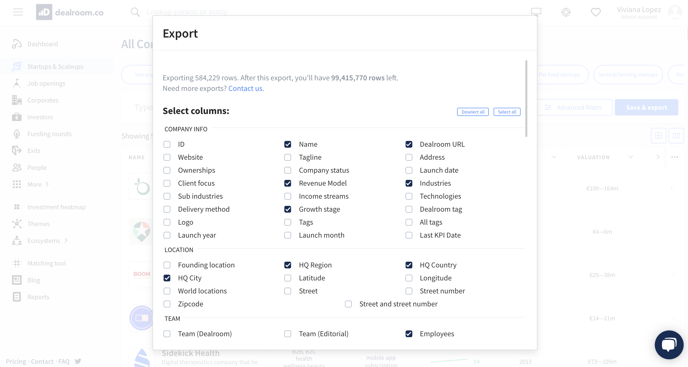 Note: Every tab (startups & scaleups, corporates, investors, etc) has different exportable columns that you can choose from.

Need help?
Feel free to reach out to us via our support chat (bottom right) or send us a message here.