Get the most out of the database and find what you're looking for
Finding the data and companies you need can be quickly done by choosing from a wide variety of advanced filters through the Advanced filters button, typing a keyword into the query bar and/or by using the dropdowns in the column headers. The combination of using advanced filters and dropdowns will allow you to have a clearer view of the data you need.
Queries can be created from the startups & scaleups, job openings, corporates, investors, funding rounds, investment heatmap and all sections under the More tab.
Note: Do take into account that each section will have different filter options and thus produce different results.

A query can also be saved and exported right from table view. To save and/or export the query click on the Save & export button on the right of the query bar. Then choose if you just want to Save the query, Save and export, or Just export.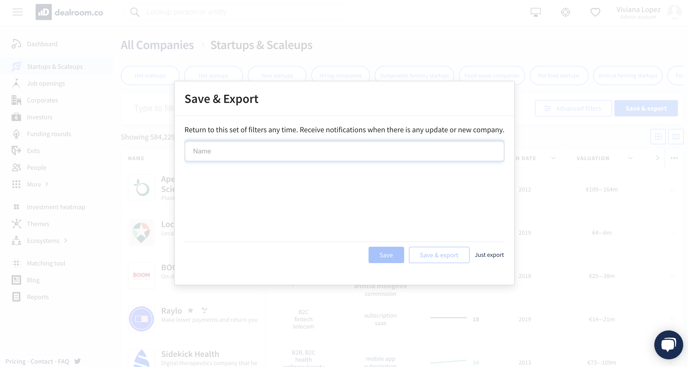 Attention: Exporting is a premium feature only available to trial and premium users

If you've chosen to save your query you can find it by clicking here or on the target icon next to your name on the top right corner of the page. After clicking on the icon, click on the Edit saved searches button on the right.
Tip: Saved searches give you the option to discover new companies that match your search criteria