Lists are an easy way to keep track of key companies
A list can be created by saving a company directly from table view or from the company profile. The former automatically creates a list called My saved companies. This and any other list, can be renamed to your liking by following these steps:
Click on the heart icon next to your name, on the top right of the page or follow this link. This is where you will find all your saved lists
Click on the list you'd like to rename
Click on the Edit description button on the right
Edit the title and if needed also edit/add a summary or description to the list
Click on the Save list button at the bottom of the window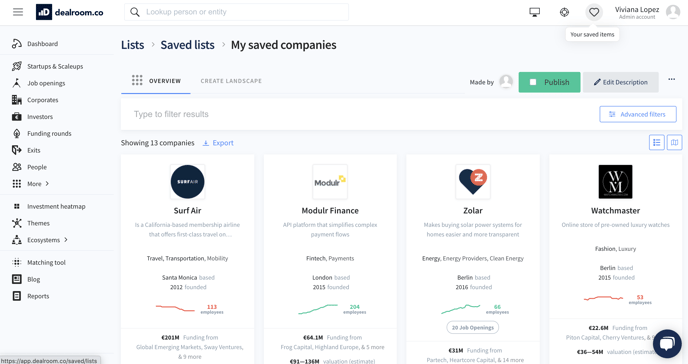 To learn how to save lists directly from table view, click here.

To create a list from the company profile head over to the company profile of your preference, click on the green Save button on the top right side of the page. A window will be displayed with your lists (if you have any). To create a new list, click on Or click to add new list…, type in the name of your new list and hit the enter key on your keyboard. You have now created and saved a new list and at the same time added the company to this list.
To save a company to an already existing list, click on the heart icon and make sure the heart becomes red. The company is now saved in the list you chose.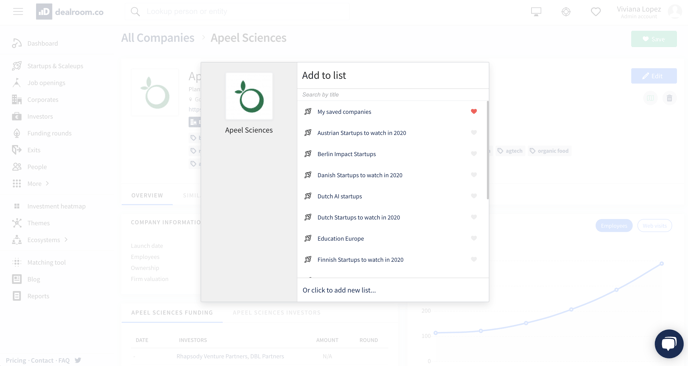 Tip: Saved lists give you the option to receive news about companies in your list. You can always turn off the notifications by unticking the Get news updates box.

Editing a saved list can be done by clicking on the Edit description button. You can also make your list public, share privately, add more owners and companies, choose to receive news updates, and/or delete the entire list. To do so click on the "… " button.


Need help?
Feel free to reach out to us via our support chat (bottom right) or send us a message here.